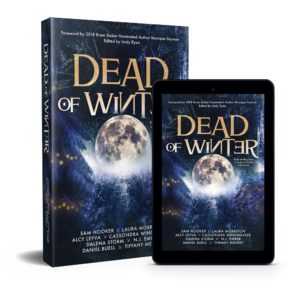 Dead of Winter is edited by Lindy Ryan and features stories by N.J. Ember, Sam Hooker, Alcy Leyva, Tiffany Meuret, Seven Jane, Laura Morrison, and Dalena Storm. Foreword by 2018 Bram Stoker Award-Nominated Author Monique Snyman.
Eight chilling tales to read under the Cold Moon.
A tinker's son acquires a cursed soul.

A dying woman is haunted by her own reflection.

An uninvited presence haunts a Christmas seance.

A festive holiday turns macabre.

Despite the twinkling lights and steaming cocoa, the end of the year is the darkest time of the year—a season of short days, long nights, and cold skies. In this special anniversary anthology, the authors of Black Spot Books mix Ye Olde Yuletide hauntings with modern-day holiday horrors to weave a chilling new collection of dark winter tales. From frozen forests stalked by eerie Christmas ghosts to rotting gifts of winter malice, the spirits of Christmas come home for the holidays in the Dead of Winter. 
The Dead of Winter Storytellers Box from JeanBookNerd is a fantastic way to get yourself into the holiday spirit! Not only do you get a copy of Dead of Winter, you also get awesome Dead of Winter themed swag. This Storytellers BOX includes:
Book
Tote Bag
Shirt
Ornament
Bookplate
Shot Glass
Sticker
Button
It is priced at $44.97 (USD) and can be pre-ordered on the JBN website. So don't wait, grab your Dead of Winter Storytellers Box now.